Ann, the Fragrance of Dada,

Only Dada. No Him, no Satyanarayan, no Mahanam. Dadaji. Dada, Who establishes Truth. Although in human form of Satyanarayan and Mahanam, Dada as Supreme is the only rescue and shelter when a person is involved and involved, and utterly dismayed by worldly contacts, relations, and events, which only exist in limited time and space temporarily. You are saved, so are all who do not leave Dada under any circumstances.

I was in Calcutta for a day's movie schedule and few days with Dada. Your two letters were there with Dada when He asked me to reply. You are wonderful to write, "Dada tells me from within or directs where to go." That is enough. Your play is on the fiery level. All past had a meaning significant for Truth or His ways, so take it in that way. So, mind is neutral now, with His, Dada's Love, nothing else matters. You are right to hold Him only. You become His now.

He has come in human form of Dada to establish Truth, for His Leela, or Love Play. Can anyone move selflessly about the world as Dada moves on His own? No one can. Everywhere Dadaji goes He remains in a small room seeing a few people. Those who are wanted will come to Him, meet Him and experience Mahanam. Others may not, but to see Dadaji's photo or hear His name, is also effective. That is why it is important to include Dada's photo in news articles and books.

As I recorded in 1973, Dadaji said,
"Because Dada and Mahanam will be in books, I will become exclusive. Eventually people will only see Dada and that is enough to be graced by His Divine Cosmic form."
He enjoys His Leela and the message of Truth is delivered to the world.

One day in 1978, while riding in a car in New York, Dadaji said,
"A time will come when there is great destruction. The world is proceeding toward it gradually with tendencies of mind and nature. The same fate happens to civilizations at the end of each Yuga cycle before the new one starts with stabilized mind and with Truth identified with Dadaji. The last one was Dvapara Yuga. Before Buddha and Christ there were dark days. This present Kali Yuga is the worst Kali Yuga, the worst of all civilizations, and it ends at the height of science automatically. There are so many Ages that have come and gone, Satya, Treta, Dvapara and Kali are civilizations termed according to the nature of the mind during each age. Nature remains the same. Nama was present in all Ages, but now humans have become self-proclaimed 'Gurus' or 'Gods' and there are so many religious organizations and castes, which will be finished."
Today there are so many differences and divisions between people; Truth is lost. Whatever people know of life and God is completely distorted and misinterpreted. The Root of Creation, Life and Destiny has come in human form as Dadaji to be amongst us at the end of civilization. He has come to mold human minds, attuning them to be conscious of Truth within as Mahanam, Gopal Govinda, the existence of all.

Dadaji has no mind, but he shows physical and mental suffering which moves and molds the future of humanity gradually from virulent, destructive minds to be born in the next birth with Truth. Suffering doesn't end until He, "the One" in human form, comes with all the power of manifestation (Prakriti) as Dadaji.

This (late 1980's onward) is the worst part, the height of suffering. People will wail and wail. War, natural calamities, diseases, and destruction are in Dadaji's wish to fix up humanity in proper shape; to remove all differences of religion and realize Truth is One and the whole Creation is His. Humanity cannot do it. See what happens.

In deference to Truth, He has accelerated the inexorable Laws of Nature, Prakriti and mind to revolt. Increasingly people will realize in three years time (1989, 1990, 1991) and thereafter. Read the news coverage. Nature revolts, climates change. Human minds are unpredictable and will destroy each other over differences of religion and power. People will finish themselves by fighting against one another, ultimately to come to the Truth. Diseases are accelerated. Dadaji says nobody knows why diseases take place one after another. Physicians fail, falling victim to diseases themselves. Diseases may be cured, but then comes another.

All human calculations will be upset gradually to establish that humans can do nothing. Humans are helpless in His Creation. Ultimately, everyone will come to realize it is He that matters. He is the only Eternal Religion.

This is a gradual process, Dadaji says, blows cannot be given all at one time, for one must feel them. A time will come when the Laws of Nature (Prakriti) will spare nothing. It does not spare Him also, because it is also His; He is both. When the Law of Nature is acute, virulent, and destruction sets in, Dadaji will leave (Dada died on June 7, 1992). Prakriti will do the rest, as the world of Nature is also His. The rest follows to completion.

One cannot imagine the fate of Creation. Dadaji said, "Only remedy is somehow remember me. If you don't, does not matter. I am Prakriti and He." So much of the population with corrupted minds have to be finished for a new civilization of Truth. Now Truth has been lost in the movement of mind's ignorance, greediness, selfishness. Power loving people are devoid of Love and Truth, and must come to realize God and humanity are inseparable.

Thereafter, no differences of religion will exist. These are recorded mandates of Dada for the future, the doings of His Law of Prakriti for Truth. She (Prakriti) does not spare anyone unless mind accepts Him and lives life normally with Him. Prakriti gives everything to enjoy, provided one takes care of Him. Otherwise, Prakriti does not spare, She is merciless.

To guard us, Dadaji as Satyanarayan, says for the good of future civilizations,
"Feed your normal and natural desires otherwise they will revolt. Do not starve them, but do not do excess either. And, keep Him in mind, then you will be in His lap. Otherwise, Prakriti will not spare."
It is the Law of His Creation, which He does not interfere with except to establish Truth.

In 1973, in Calcutta, while I was alone with Dadaji at His house, I asked, "Tell me frankly, in the future will Dadaji as Nama stay?" Dadaji said, "'I' is ego. 'I' cannot say. You, Abhi, can say, 'yes'."

I asked, "But, why has He not come as Rama or Krishna, why as Dadaji?" Dadaji said,
"Without Dadaji who will teach Love? Rama or Krishna is Eternal and cannot express to guide. So He, in form as Dada, has come to bestow Love, and with Prakriti to mold life. Now it is a question of time. The seed is sown, then the tree grows, it flowers and fruit is there to eat. It cannot be done in a day."
This is Dadaji, Satyanarayan, without limitations. He is silent and patient; but in front of people Dadaji, as a man and brother, smokes cigarettes, drinks tea, shows concern for His family and shows feelings like laughing and impatience. All to show worldliness and one adapted to character of mind. But, as Satyanarayan, Creator of life and destiny knowing the whole Eternity, nothing escapes His vision. He shows the highest patience to tolerate our faults. Dadaji knows all but does not allow it to be known, saying,
"I don't know anything."
He does not care who comes or does not come (to see him or read about him), it does not matter to Him, because He is the Existence, Life, and Destiny, and, all minds will come to Him today or tomorrow. Mind starts from Him and finishes in Him receiving His Love. This is the purpose of Creation, so a person cannot do anything. He is the Creation Itself.

All who meet Dada have no power to resist His Call. It is His wish from within. This is Dada. I have lived so many years since my birth in Bangladesh village. Who knew a movie star would move with Dada to the present state of mind to write about Truth, about Dadaji? He has a cause for it. He being within, made my mind exclusive, unaware, gradually, He detached the mind from external and surrounding influences (Prakriti). Actions and reactions are gone. Sense of wants, demands, too, are gone.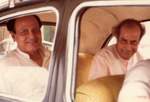 Imagine how I could write this now and keep all recordings and records on Dadaji. I am His choice, which I never dreamed, as I wanted to be in movie acting. Now nothing is there except His works and talks, and some movie acting, also created by Him. He guides and looks after me.
Only He can take away our mental involvements. Then we can be peaceful with stabilized mind. Analyze all who meet Him. Eventually, that is the outcome of Dadaji's Cosmic Divine Form. So, remembering Him is a must. Of course, we can't even remember Him unless He makes it so, which He has been doing.
Dada has come to remove the cover of Maya, mind and ego, to help us feel the Oneness. There are hundreds of audio cassettes out of which I took information to write to you. Dada spoke in Bengali, Hindi, English, etc. As Omniscient, He can speak any language whenever He feels necessary, including Urdu, Arabic, Sanskrit, and the earliest of languages.
I felt like writing to you as if Dadaji guides from within. You are chosen one for Truth.
With love and best wishes,
Abhi