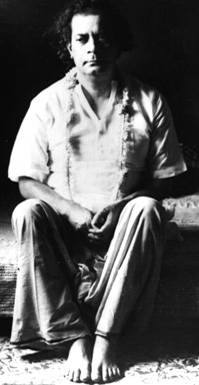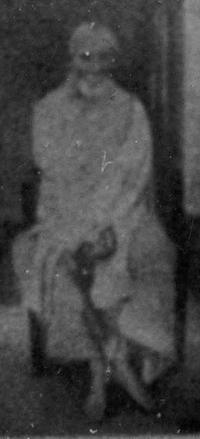 Dadaji ------------------------> Sri Sri Satyanarayan
The film was developed. After viewing the prints, the people hurried back to Dadaji. Showing him the first picture they exclaimed, "This is not you!" "You don't have a beard and you weren't wearing those clothes." "How did this happen?" The rest of the pictures taken that day were clear images of Dadaji.
Dadaji said, "That I don't know, but remember your promise. I said you can do anything you like with the first photo."
Someone asked, "Who is this?" Dadaji replied, "This is Sri Satyanarayan, the image of divine Truth within everything and everybody. Remember Dadaji's photos are not for worship. No mortal human being can be a Guru. God is the Guru."
Later, referring to the image in the photo, Dadaji said, "The manifestation of Truth within consciousness has been personified in the image of Satyanarayan. This brings Truth within the reach of human conception."
NOTE: Sri means holy, graceful, auspicious, revered; Satya means Truth, that which exists; Narayan means the source and support of all beings, God in the created image of a person. Need help with Sanskrit? Glossary