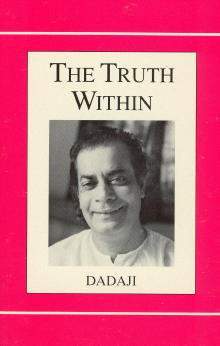 ISBN 0-942687-02-7 (out of print)
Library of Congress
Catalog Card Number: 88-71322
I read THE TRUTH WITHIN with chill bumps, warm feelings, tears, joy and love. I met Dadaji in Los Angeles in November 1987. Such a beautiful experience. I have never felt so much love. When I walked into his bedroom to meet him for the first time, His Aroma was present and I knew it was the same Fragrance I first experienced during a seminar in Hilton Head, North Carolina, over one year before. --- N. Estes, Texas, USA

THE TRUTH WITHIN
by Dadaji, edited by Ann Mills
The most comprehensive book ever written about Dadaji and his message of Truth. Read Dadaji's comments about vital topics such as: life, Truth, God, God's Name, death, meditation, yoga, wealth, desire, attachment & detachment, the future, relationships, space & time, reality, and love. Also includes personal accounts & newspaper articles about Dadaji, a biography, extensive glossary of Sanskrit terms, miracles occurring in Dadaji's presence, and much more.

Read THE TRUTH WITHIN (3rd Ed) online and free download of one complete pdf file (10.11 MB)


Read online and free download of small pdf files
THE TRUTH WITHIN - 1st Edition paperback book
Available at amazon.com!