Meeting Dadaji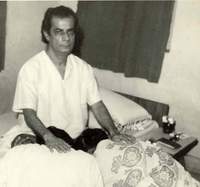 As Dadaji enters the informal living room of the home where many have come to meet him, the easy-flowing, lively conversation of the group quiets. Some people stand respectfully, some radiate with an outpouring of love, some smile broadly with obvious joy, some look on skeptically, some are wide-eyed with curiosity. No one looks on with disinterest.
Dadaji's walk is youthful and energetic. He moves with a grace that commands attention. His age could be anywhere between forty-five and sixty, yet people say Dadaji is over eighty. His features are refined. A powerful, smooth, and glowing forehead, distinctive nose, broad mouth, and a firm, slightly cleft chin give his youthful face both charm and authority. His hair, cut in the current fashion, is black with traces of silver.
As he walks by, Dadaji momentarily looks deep into the eyes of several people, embraces a few, and affectionately slaps one or two on the back. His gaze holds something wonderful, exhilarating, timeless, completely indescribable, yet somehow familiar. From his thickly lashed, large, dark brown eyes flow an immense commiseration and compassionate love. A gentle, almost shy smile lights up his otherwise perfectly serene face.
Dadaji wears a simple but elegant white short-sleeved Indian shirt and a brightly colored silk Lungi (traditional skirt-like attire). In the Indian custom, Dadaji's feet are bare. As he reclines casually on the sofa, some notice the unusual perfection of his feet, skin smooth, toes even and straight, nails healthy.
The group of twenty or thirty men, women and children make themselves comfortable on the floor in front of Dadaji. Those gathered represent a wide variety of ages, occupations and lifestyles. Everyone's gaze is riveted on Dadaji. They seem to be basking in his presence and maybe hoping he will look their way with his eternal look of love. As everyone savors the silence a beautifully sweet fragrance hinting of sandalwood and roses drifts through the room. Coming from no discernible source, the aroma becomes quite strong for an instant and just as quickly as it came, it disappears leaving a few newcomers mystified.
A visitor enters the room and Dadaji smiles warmly and gestures for her to come and sit near him. She navigates carefully through those seated on the floor and Dadaji lovingly gathers her in his arms. They have a brief conversation. As they talk his hand rests affectionately on her back. For these few intimate moments there are just the two of them. Dadaji slaps her soundly on the back and those in front move over to accommodate her as she sits down at Dadaji's feet. There is respect, reverence and rapport, but obviously there is no distance, fear or barrier between Dadaji and those who come to see him.
Someone sitting to Dadaji's left asks, "Dadaji, who will show us the way to Truth?" Dadaji smiles compassionately and remains silent for some time. Then, as if suddenly infused with power, Dadaji sits bolt upright, gathers his feet under himassuming an agile cross-legged position and says, "Humanity is One. Religion is One. Truth is One. Language is One. After that, all is mind creation. That has no connection with Him. His Truth is One." He stops, his beautiful eyes gazing upward momentarily, then he looks back at the group and continues. "Your work is your penance. Carry on. Do your duty. If you remember Him, that is enough. Follow or not?" He looks inquiringly at the man who posed the question.
"Just try for your job, whatever it is, and try to maintain your family. And, remember Him." Dadaji's lilting almost melodic, Bengali-accented English is not difficult to understand. Gathering momentum, Dadaji says, "Other than Name, there is nothing. Name is the Supreme Authority. Name is the Guru. Name is God. Name is the Almighty and Truth. No need of going to anybody, anywhere, to any Ashram. Why are you people bothering with superstitions? You have come with the full Diksha (initiation) within you. Why are you running after all these things? Ashrams, temples, institutions, priests, Gurus, Bhagawans...all moneymaking business only."
Dadaji's mysterious eyes widen, his brow gathers authoritatively and he leans forward. Looking the gentleman straight in the eye, Dadaji points to him and asks, "Guru? Who is Guru? If I am Guru, then you too are Guru, everyone is Guru. If I am a saint, you are also saint, everyone is saint. Understand or not?" Without waiting for a reply, Dadaji says, "Human being cannot be Guru. Guru is deathless and Eternal. All these Yogis, saints, Sadhus, Godmen, Gurus, this, that...all, each and every one are bluff, full of bluff. Their only interest is to collect money and make institutions and five-star hotels. It is this vanity or egoism which has divorced us from Truth. God within you is your only Guru." Dadaji becomes even more forceful. "I am not a Godman, Guru, saint, Sadhu, or anything. I have no religion, temple or Ashram. I am an ordinary family man running a toy shop in Calcutta. I cannot give you anything, I cannot take from you anything. I have got no right!"
Dadaji's demeanor softens. He smiles lovingly to the people. As he looks around his captivating gaze catches a few and graces them with love. His voice becomes very tender. "From the time of my boyhood, I love Him. Because I know that other than Him, I am nobody. God is everything. I am full of Him. He is chanting in your heart 24 hours, inside of us, making love to us as Mahanam. Because you are breathing, talking, doing, you know He is within you."
Many in the group gathered at Dadaji's feet feel a special bond with him, a private channel of communication. Whenever his eyes meet theirs they merge into an inexpressible ecstasy of love. For some the love overflows in tears. Clearly touched by their genuine affection Dadaji smiles charmingly, knowingly. His nearness is comforting.
Leaning down on the couch Dadaji reclines casually on his left side, his head resting on his left hand. Radiating peace and tranquillity, his attention seems to drift away. His vision turns inward and his eyes begin moving as if he is seeing something beyond the immediate environment, far beyond anyone else's ability to comprehend. Dadaji's presence is soothing and somehow deeply nourishing.
Breaking the silence, someone says, "Dadaji, I have a question." Dadaji's attention returns, focusing on the one speaking. "We hear so many accounts that Dadaji's Fragrance is received at very distant places, even by people who have not heard of him or met him directly. How does it happen?"
A beautiful smile blossoms on Dadaji's face and he says, "The sound of His flute is His Fragrance. It is All-pervasive. It is the Fragrance that reminds one of Him. This all happens by His Will." Looking shy and unassuming, Dadaji looks and gestures to someone sitting nearby and says, "You tell something." After a slight hesitation, he begins. "The Fragrance of Dadaji is known by hundreds, even thousands around the world. He can fill you with Fragrance with a mere touch of his hand. A room, a car, a hall at some distant location will unexpectedly fill with Dadaji's Fragrance. Whatever it is, once you experience this wonderful Fragrance you will never confuse it with anything else. And, you will find it, as Dadaji says, like the flute of Lord Krishna, calling you to remembrance of Truth, reminding you that God is within.
"Dadaji manifests through His Fragrance. If you try to surrender your self to Supreme Being, whether it's partly or fully, and if you try to love Him, you will know His presence by His Fragrance. In some cases it happens frequently, in others at rare intervals. It happens by His wish alone. Time, space, religion, or status cannot get in the way. It happens because only through love and complete surrender of your ego, you keep God in mind as you go about your normal daily activities. In other words, your life is the way to Truth.
"Dadaji is Love Incarnate. If you are a genuine Truth seeker, not a self-seeker, you will have the experience of Divine Fragrance. Simply by remembering Him you keep yourself ready, and when Dadaji desires Fragrance comes to you anywhere in the world.
"Over the years, thousands of people from all parts of the world and all walks of life have come to Dadaji. Hundreds of articles have been written by highly respected people telling of extraordinary experiences. When intellectuals, scholars or scientists have come to visit Dadaji, unimaginable manifestations and inexplicable phenomena often occur. Numerous accounts testify that Dadaji heals various life-threatening ailments. Heals whether or not the sick person is in his presence or in distant places, whether or not anyone even tells Dadaji about the illness. Many times, while wearing only a t-shirt and Lungi, Dadaji has manifested objects out of nothingness. Written accounts mention things like apples, pineapples, flowers, cartons of foreign cigarettes and bottles of whiskey. Gold watches have appeared from nothingness and Dadaji engraves them with a touch of his finger. Silver lockets appear out of nowhere and he transforms them into gold in an instant. Dadaji is known to casually alter weather, calm storm-tossed seas, waft His Fragrance to distant lands, manifest messages of Truth by blowing his breath on blank paper, and even bring the dead back to life. Dadaji has been seen simultaneously in different places and upon investigation the multiple manifestations of himself have been verified many times.
"What he says to us in these small gatherings often reveals glimpses of incomprehensible Truth beyond the reach of the mind. Occasionally when learned intellectuals come to see him, Dadaji speaks Sanskrit verses unheard of, remarks about thousands of years of unrecorded history, speaks eloquent passages and gives interpretations of ancient languages, and hints about the coming apocalyptic years and the coming Age of Truth.
"These amazing feats are only for the purposes of Truth. Dadaji insists he can do nothing; it is all the Will of the Supreme. Unfortunately, far too many people come for miracles, rather than for Truth. This causes Dadaji great pain." The speaker looks at Dadaji and with a gentle smile continues. "What we call miracles happen, yet Dadaji insists he is not a holy man, Guru, Swami, or saint. He is not interested in establishing an organization. He wants nothing for himself. Even when he is offered symbolic gifts of fruits and flowers he passes them on to others. He insists it is wrong to allow or promote a myth-building personality cult. And, those close to Dadaji live naturally and earn their livelihood in normal ways.
"Dadaji is with us for Truth. He is the last one to take anything from you. He simply wants you to love him as Elder Brother. His Love is unconditional and is there whether or not you love him in return. Look inwardly for a helping hand whenever you falter. Lean on him for support by simply remembering Mahanam. Become aware of His Presence as you go about your work and daily activities, and he will remind you of Truth with awareness of His Presence in surprising ways and occasionally His Fragrance in unexpected moments. All through the ups and downs of life, just remember Mahanam and leave the rest to Him."
Dadaji beams happily and reaches to a small table nearby to pick up a pack of Wills cigarettes. Opening the pack, he takes out a cigarette and with precision breaks it in half. Keeping the filtered half, Dadaji carefully returns the remainder to the pack and sets it back on the table. He picks up a small box of matches. His actions seem almost ceremonial. Striking a match stick, he cups the burst of flame in his right hand and lights the cigarette. He exhales a thick puff of smoke, shakes out the match with one vigorous stroke, and places it with utmost care in the ashtray. For a few moments the simple act of Dadaji's smoking a cigarette consumes everyone's attention.
Someone in the group asks, "I don't know what to do with my life, can you help me?" With obvious enthusiasm, Dadaji sits bolt upright his back always as straight as a young child's. "Through lecture it is not possible to understand anything. Lecture is question and answer. But, we do not know why we have come here to earth. That is the main thing. Why have we come and where will we go? Have we come here forever, or not? If not forever, there is Something that is doing everything. Actually there is no difference between people. Everybody is the same. Nobody is Godman or saint. Everybody is Godman because other than that Power, nobody is alive. Everything is within. He also is within. Only try to love Him. Love is the answer. Nothing else. Understand or not?"
Dadaji draws one last inhalation from the extremely short cigarette and then crushes it out slowly. Looking directly at the person asking the question, he gently says, "Love is the only language that He understands. Even then, you cannot love Him. He only can love you, and that as Himself. You can only feel His Love, passively of course. His Love is Something. His Love is Infinite. Always He is chanting inside of you. That is His Love. That's why I tell you, Love is the only answer." Dadaji leans back on the sofa and becomes quiet. His eyes once again have that far away look.
His simple message is compelling even though it isn't a formal lecture or lengthy discourse on philosophical issues. Dadaji's remarks are obviously spontaneous and not meant for effect, persuasion or advocacy. He speaks Truth which creates its own effect and is its own best advocate. It's nice to linger over his words. They seem to resonate somewhere deep inside.
Suddenly, Dadaji points to a gray-haired professional looking woman standing in the back of the room. He calls her to come forward. She carefully makes her way through the group and stands in front of Dadaji. He gestures with his hand for her to sit down. Somewhat apologetically she explains she cannot sit because she has suffered for two years from extreme back pain and has recently been forced to quit her job due to her disability. Again, this time more forcefully, Dadaji motions for her to sit down. She looks confused and tries to explain. However, Dadaji will hear none of it and insists she sit down. Obediently the woman slowly lowers herself to a sitting position and finds to her obvious amazement that her back pain has disappeared.
As if to answer the curiosity of onlookers, Dadaji says, "The Divine does all these things. A wish arose in Him. I am nobody. But, I warn you all, do not take miracles to be anything but external happenings. They are extraneous. Once you have faith in Him, you must forget about miracles and go beyond them in order to reach the only Guru, the Self within you. Miracle is every breath. The greatest miracle is our Existence." Dadaji smiles lovingly at the cured woman, radiating a loving compassion that enfolds everyone in the room. "It is a fait accompli. If it happens, well and good. If not, well and good. It does not touch your Dada at all. He cannot give you anything. He has no power, nor can your Dada take from you anything."
Dadaji looks in your direction and motions for you to come near him. "What if Sri Sri Satyanarayan the Supreme Creator of Truth wants to communicate with you? What if He sends you a memento?" Dadaji raises his right hand in the air and on his open, empty palm appears a medallion with an image of an elderly man. "It is Satyanarayan's gift to you," Dadaji says, "I am no one. It is all the doing of Satyanarayan."
"What is your name?" Dadaji asks. As you tell him he takes the medallion, rubs the reverse side with his thumb and what had been a blank surface is now engraved with your name. A minute later, and as mysteriously as before, a gold chain appears in the palm of his empty hand. "This is to wear the medallion around your neck inside your shirt. Not for show." Dadaji tucks the locket inside and it rests over your heart. All this happens in a casual, almost playful way, without any ceremony or ado.
"No, no, it is not my doing," Dadaji says as if in answer to the unspoken wide-eyed amazement of those present. "It is the manifestation of the Supreme Will of Satyanarayan to iron out atheism and to remind you that a person has no power. Your Dada is nobody here. This is a gift of Satyanarayan. Take it as a token of His Love. Do you call it a miracle? Are the sun, the moon, the stars, miracles? It is a miracle of that sort. It is Nature, governed by Laws superior to the laws of science. All Laws of Nature are at His beck and call. Whatever He does may be superficial, but what He does is an expression of His Loving Will."
"Come with me," Dadaji says, leading you into the bedroom where he stays. "I tell you one thing, there are no Gurus. Each person is their own Guru. The way to Truth is through Mahanam. It can be in any language. You ask for it in your mother tongue." Dadaji hands you a small blank slip of paper. He guides you across the room to a large framed picture and indicates for you to sit in front of it. Then, he asks you to bow before the image of Satyanarayan and put the blank paper to your forehead. Dadaji passes his fingers ever so lightly down your spine. An energy vibrates through your body. It feels like the touch of the Supreme Creator filling your mind and body with full awareness of the vibration of life. Then Dadaji tells you to look at the paper. Mahanam is written in red on the paper you hold in your hand. Dadaji asks you to read the words, "Gopal Govinda", and repeat the Mahanam several times.
"Remember what you have received," Dadaji counsels. He indicates for you to kneel before the picture of Satyanarayan and you discover Mahanam has disappeared from the paper you have been holding. Fragrant drops of a honey-like nectar have appeared on your shirt where Dadaji has touched you. As you get up to leave, Dadaji places his thumb on your chest and His Fragrance envelops you. Affectionately he says, "Now go. You just remember Him, do your duty and enjoy Him."